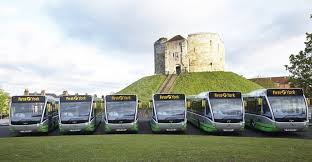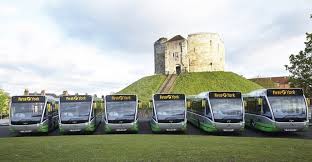 In 2016, transport became the UK's biggest source of greenhouse gas emissions making up 26% of total emissions. There has been little progress on reducing this (only a 2% fall since 1990 v. a 57% decrease in energy supply emissions).
Throw in the emissions from an ever-expanding aviation sector and you have a compelling case why we must tackle transport in Yorkshire if we are to achieve our climate targets.
Transport is also a major contributor to the illegally high levels of air pollution in some parts of Yorkshire. There are over 2500 premature deaths each year as a result of particulate air pollution many of which are as a result of diesel cars.
Transport and Climate Change
Progress on reducing transport's impact on climate change has been painfully slow. Over the last 25 years, the UK's transport emissions have only fallen by 2% and the latest figures show that its starting to grow year on year.
In January 2018, the Committee for Climate Change confirmed its  recommendation that transport emissions are reduced by 44% from current levels by 2030.
This is ambitious but what's happening in Yorkshire?
In April 2018, Transport for the North became England's first sub-national transport body. It's Strategic Transport Plan will carry statutory weight in determining investment decisions (e.g. for new road schemes) but it falls woefully short of what's required to tackle climate change.
In Summer and Autumn 2018, Transport for the North will also consult on two Strategic Development Corridors, the Southern Pennines and Yorkshire to Scotland. Zero Carbon Yorkshire's Transport Group will be looking at these in detail to ensure they deliver on carbon reduction and air quality.
During 2018 and early 2019, the Government will be developing its Aviation Strategy with one of its core objectives being to "Support Growth while tackling environmental impacts".
Forecasts from the region's airports predict passenger numbers rising from their current level of 4.8 million per year to nearly 11 million by 2030 – well in excess of the Committee for Climate Change's recommended limit on growth of 45%.
Transport and Air Quality
After three successful court challenges from Client Earth, the Government launched its draft Clean Air Strategy for consultation in May 2018.
This sits alongside the Air Quality Plan for roadside nitrogen dioxide emissions published in 2017.
The 2017 required local authorities across Yorkshire to act. These councils are:
Leeds – one of the five UK cities to bring forward plans for a Clean Air Zone. Its proposals, launched in January, are to introduce a Clean Air Zone (limited to buses, taxis and HGVs) within the outer ring road. Further consultation on this proposal is scheduled for Summer 2018.
Rotherham and Sheffield were required to produce local action plans by March 2018.
Bradford, Calderdale, Kirklees and Wakefield are also required to carry out feasibility studies by the end of July 2018 into speeding up compliance with legal limits.
So what are the solutions on transport?
Despite the lack of progress on both climate change and air quality, there are solutions out there. Some of these are being introduced in Yorkshire and the Zero Carbon Yorkshire Transport Group wants to work with partners to accelerate their roll-out.
However, the key solutions are:
Reducing the need to travel.
Changing the way we travel by supporting walking, cycling and public transport
Improving the vehicles we travel in (including supporting electric vehicle infrastructure)
Freight and logistics operations to become more efficient.
The Zero Carbon Yorkshire transport group is coordinated by Simon Bowens (Friends of the Earth).